Gavin - Alpe d'Huez training on Zwift & In the real world (Part 1)
It's fair to say that none of us like training in the winter weather - myself included. Except when you get a nice crisp day with some winter sun and most importantly no frost. But these days are hard to come by. It's normally a case of trying to build the motivation to get up and head out on the bike when the rain is beating against the window.
Zwift - The perfect winter training partner.
In late July 2018, I booked a cycling holiday to the French Alps with a few club mates from the Maryland Wheelers for July 2019. I've had Alp d'Huez on my bucket list for 10 years. My plan is to get training early with the key to this year being consistency.
My main issue, like a lot of our customers, is trying to find the time to train in late autumn and winter when the nights are shorter. Then September to Christmas is one of the busiest periods in the year for me. I normally attend 3-4 trade shows for the launch of the new bike models from Trek, Scott, Raleigh, Haibike, Lapierre etc. This takes up some of my weekends and Wednesdays that I'd otherwise use to train and with the days getting shorter I run out of time to train outdoors. Inevitably my form begins to drop sharply around October time. So my plan this year is to not let that happen as I want to carry that summer fitness all through the winter. That's where a smart trainer and Zwift subscription came into play!
What is a turbo trainer/indoor trainer/smart trainer?
A smart trainer, once connected to a PC, tablet or phone, can control the level of resistance applied to the pedals of the bike. A variety of options are available I will go into a bit more detail below. The main idea behind a indoor trainer is that you can mount your bike to it indoors to turn it into an exercise bike. There are several options::
Option 1 Wheel on Smart turbo trainers
"Wheel-on" trainers work by fitting a special turbo trainer tyre to the standard bike wheel (this isn't a must but is advisable as the tyre will start to degrade/disentagrate over time). This then sits on a roller which is controlled by the computer and changes the resistance accordingly.
This is the option that I went with in the Cycleops M2 trainer.
Option 2 Direct Drive Turbo Trainers
Direct drive trainers work by removing the rear wheel from your bike and clamping the bike directly onto the trainer. You will need to fit a compatible cassette (this is the sometimes called the rear cogs/sprocket) to the trainer. Once the cassette is then connected to the trainer the electro magnet unit clamps down to the required wattage/resistance.
Option 3 Standard Turbo Trainer
You don't have to use a smart trainer, sometimes referred to as a responsive trainer. You can instead just use a basic "dumb trainer" for Zwift. All you need to do is use your existing rear wheel in conjunction with a ANT+ cadence/speed sensor. Zwift will then work out the watts that you are putting out based on your weight, speed and cadence. However, be warned that this is not as accurate in terms of power.
These sensors are designed to work with most Trek Road bike but speak to us if you have other requirements. Contact Us
Once you have a smart trainer connected you can experience what Zwift can really offer.
Zwift is a multiplayer online cycling videogame and physical training program that enables users to interact, train and compete in a virtual world.
For example as your avatar rides onto a hill in Zwift then the smart trainer will start to clamp down to the required the watts required to get up the virtual hill. The greater the watts then the great the incline that you will be on. Once you crest the hill then the watts will drop back as you are going down hill, but you don't get to rest for long!
Zwift is set up like many games were you collect XP points for every mile/kilometer you ride. Just in the past few weeks Zwift have added another 25 levels giving a total of 50 levels to aim for! You also get XP points for completing workouts etc.

The realistic feel of the game is improved even more by way of drafting. When you ride behind someone on a road in the real world you feel an ease up from the head wind. The same thing happens on Zwift as when you are behind someone you get a 10% drop in power required to maintain the speed!
Group rides are also a brilliant experience on Zwift. I often ride the AHDR (Aussie Hump Day Ride) which is a group of some 200+ riders from all over the world. While in the group ride, there will be a beacon rider who you have to stay with as they will set the pace of the run. Another nice feature of the group rides is that you will get "Power Ups" which give you either a little aero boost, draft boost, or lightweight.
Structured workouts and FTP
Structured workouts are, in my opinion, the key to a good winter training plan in Zwift. Below is an example of a Structured workout on Zwift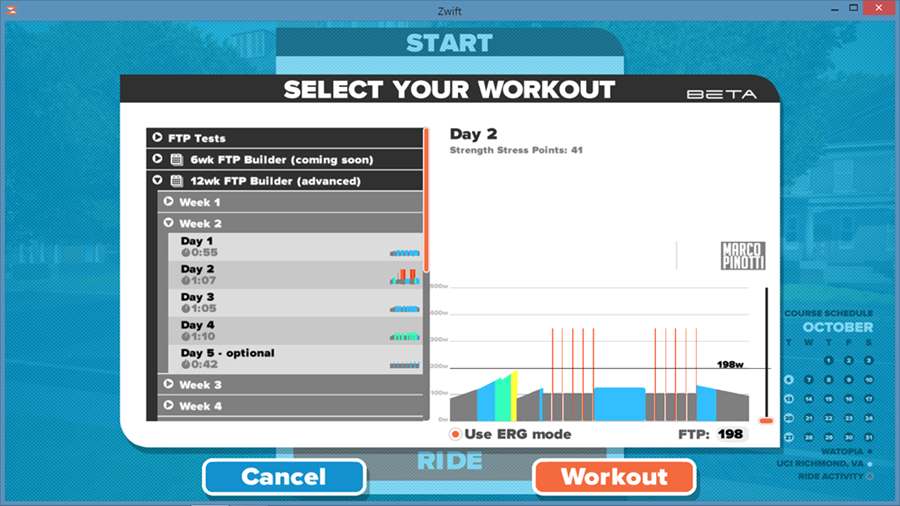 Firstly you need to work out your FTP (Functional Threshold Power)
Your FTP is the amount of power that you can put out for 1 hour. There are a number of ways to work out your FTP. The most popular way to test FTP is with the 20 min test which can be done within Zwift. The test starts out with a warm up and some 80-90% of max sprints, then you have to settle into a steady state which you need to hold for a 20 min block. Like with anything you need to do a few FTP tests to practice them so you know what power you can sustain for this 20 minute effort.
Once you know your FTP then Zwift calculates your training programs base on this figure. I started with the FTP 6 Week builder plan and it has really worked for me. On my first few tests I was achieving 260 watts as an (indoor) FTP and I now have an (indoor) FTP of 304 watts. This jump in FTP is not normal and is a reflection on the amount of form I had dropped after shortly after Lap the Lough 2019. This is a good time to mention that most people will have a different indoor FTP figure to an outdoor FTP. So this needs to be factored into your training plan when you hit the road.
Actual real world cycling
When I get the chance, I love getting out on the road bike. I currently have the Trek Domane AL 3 2019 as my winter road bike.
I have a separate blog post all about the bike which you can check out here. Link to winter bike blog post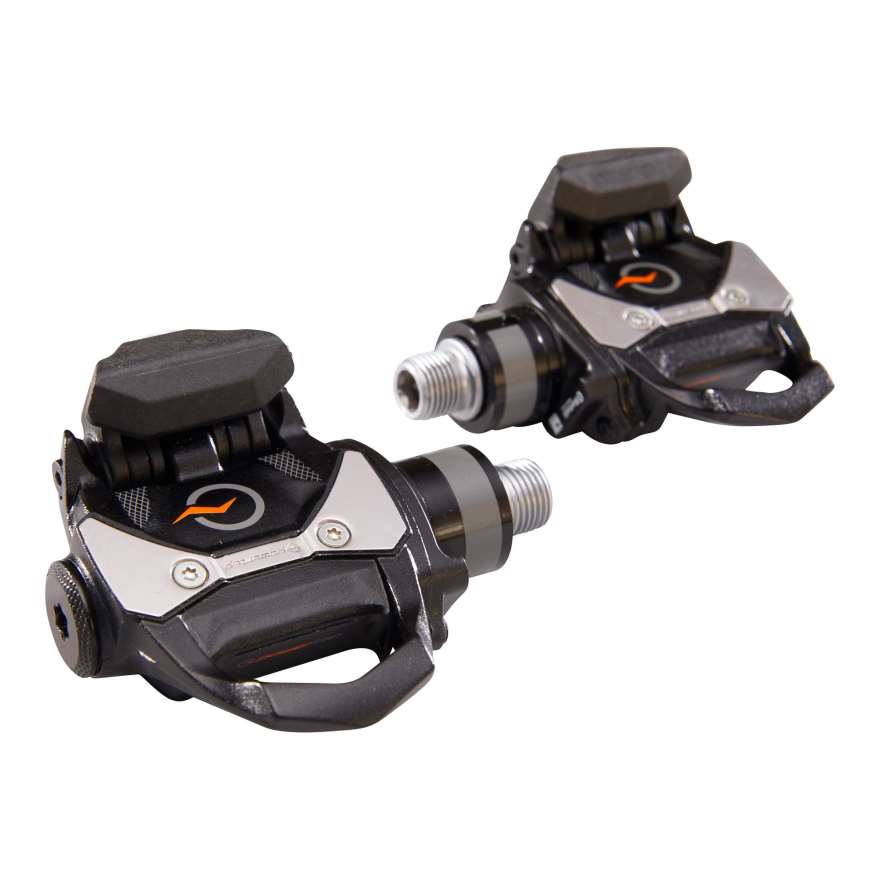 I have a set of Cycleops PowerTap P1s pedals fitted to the Trek so that I can work in specific training zones on the road as well as indoors. I use the 7 power zones recommended by Britishcycling.org. I will go into more detail on this later.
I picked the PowerTaps over other power meter options as I wanted a pedal based meter that I can easily swap between the winter bike and the summer bike when the spring comes. There is a power meter on my Cycleops M2 wheel-on smart trainer and I have tested the trainer against the pedals to make sure they are both giving the same readings. Over a 1 hour mixed cycling on the trainer there was 1 watt of difference between the two power meters.
Training schedule
Coming back to the power zones, my training plan initially consisted of 3 hours a week from roughly October-December as this is a very busy and stressful time of the year in the shop. This was made up of 3 x 1 hour sessions with mixed intervals i.e.nothing too demanding (see image below).
Since January I have ramped this up to 5 hours per week (2 1/2 hours indoor and 2 1/2 hours outdoor, depending on weather). Some weeks it is 5 hours indoor some weeks it's 5 hours outdoors but always with the same training plans/intervals. I will ramp this up slightly until the end of March to 5-8 hours on alternating weeks depending on tiredness/freshness as I don't want to train myself into a stagnant state. One thing I have learned over the years is that you don't so much get stronger on the days you train but on the days of rest and recovery in between!
Below is a picture of my current power zones (indoor).
Goals
As my end goal of climbing Alpe d'huez is pretty much like a time trial, I plan to spend a lot of time focussing on endurance, sweetspot and threshold. I'll not need to spend much time in "sprint" zones like 6 or 7. That being said, I will be training in these zones as some sections of the climb are 13% and that is going to be an intense effort for 2-3 minutes. Plus it comes in handy for sprinting for the 30mph speed signs in the local club runs.
It is important to focus on building endurance in zone 2 as this will be the "base" of most training rides. A good example of this was a 5 ½ hour 80+ mile cycle I did with a friend a few weeks back around Lough Neagh. In this ride I did 3 plus hours in zone 2. I have been using Zwift to climb Alpe de Zwift which is a virtual world version of Alpe d'Huez. This gives me a good session of 70-80 mins at the top end of zone 3 and at the bottom end of zone 4 (Sweetspot). Doing long efforts in training gives you a good guide as to what you can sustain. I recently climbed Alpe de Zwift again and my goal was to hold 240 watts a for the duration of the climb. As I knew my previous average watts for the climb I knew I could push a few percent higher and gain some time up the climb. I was delighted when I was a full 8 minutes faster this time than the last effort 1 month before.
Stretching and core strength exercises
Stretching and core strengthening exercises are something that in the past I did not put enough emphasis on. Previously when training hard on the bike I was swimming once or twice a week with some running as preparation for a sprint Triathlon but unfortunately I don't have the time for this a the minute.
I've been very lucky over the years that I have never had any real injuries from riding the bike, at least nothing that has last any longer than a few weeks. This time round I am setting a side 30-45 minutes a week mainly for back strengthening and stretching. Low back pain is something a lot of us have issues with which is caused by bad posture/bike riding or sitting at an office desk. We all service and maintain our bikes so they are running at their best so why not do the same thing for ourselves? If you have aches or pains on the bike, don't just hope that'll go away. You need to do something to about it so do the research or reach our to a professional. Low back strengthening works for me which I do by planking 4 x sets of 45seconds
Nutrition
In my training program what is now equally as important as consistency has to be nutrition! Both for fuel and recovery. For me this consists of a good balanced diet with plenty of frit, veg and then protein after training sessions. During rides I use High5 nutrition. As when on the bike your body is already working hard to power you along and we need to eat things that are easy for us to digest so as to not put a further burden on the system!
Link to HIGH 5 coming soon!
Conclusion for now...
I hope you have enjoyed reading this and at the time of writing this (Early March 2019) I have 4 ½ months training to do. I plan to keep a blog of the next months leading up to the event itself and I will post again soon.
By Gavin Hanna (Manager)